Crusader Nation Newspaper
Coming Home
By Sabrina Gardner
September 27, 2019
Homecoming week at Saint Bernard's is one of the most exciting times of the year and it is this week. During this time, Saint Bernard's has decorative hallways, dress up days every week, a rally, the voting of royalty, various homecoming games, a carnival, a bonfire, and — of course — a dance! The homecoming theme this year is all about music. Saint Bernard's is trying to get as much participation as possible, whether it is from students, prospective students, teachers, parents, alumni, or friends. ASB President Cole Petrusha said, "We are inviting everyone to come; it is a guaranteed good time!"
There will be twelve nominees for king and queen: six boys and six girls. Each grade, the ASB class, and faculty get to nominate a pair.
On Sunday, October 6th, students decorated the hallways. Each class has a genre to portray. The seniors are in charge of reggae; the juniors, country; the sophomores, rock; and the freshmen, rap. Students will dress up according to the style of each genre, starting with country on Monday, then rap on Tuesday, rock on Wednesday, and Friday we will dress up in reggae or pink for Breast Cancer Awareness month. (Thursday will be mass dress because we have a prayer service.) 
"I am most excited for Friday!" said an eighth grade girl. The football game, the royalty reveal, the carnival, and the bonfire will all take place on Friday, October 11th. After school on Friday the football game will start and soon after that we will have the carnival. The carnival will consist of four exciting games: there will be a dunk tank, an obstacle course, bungee jumping, and wipe out. As well as booths from each class that will be selling yummy sweets. For dinner a spaghetti feed will be going on in the auditorium run by the juniors to fundraise for prom. 
At eight o'clock the bonfire will start where we will introduce every fall sports team and auction off their manpower to whoever is willing to donate. 
Saturday night will be the Homecoming dance. It will be a glow party, which means students will dress up in white and bright colors. Emilee Blanchard said, "It's gonna be the best and most exciting dance of my high school career!"
From Religion Class to Religious Seminar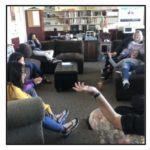 By Alex Ngo, Crusader News
29 September, 2019
For the 2019-2020 school year, a change has been made to Saint Bernard's religion classes. In last year's, religion class, students had to take quizzes and tests. This year, however, Mr. Farrell, the director of campus ministry, decided to change to a seminar structure for the class: 30-minute classes with 5 or 6 people. Additionally, grades now are based on participation in class. This way, lessons include everyone and the focus is on the quality of thoughts students exchange. In addition, students have to complete homework.
Why did Saint Bernard's decide to make these changes? Mr. Dance Farrell said that he wanted his students to know not only about religion but also to know how to think on their own. Meeting in small groups is more personal and easy to listen to students' stories so that is the reason why 5 or 6 people have a class in 30 minutes. 
Everyone has their story to share, but "it is difficult to hear 30 students in one period," said Mr. Farrell. "Also, not everyone wants to hear the same thing over and over, so separating students into smaller groups is necessary."
Senior Ben said, "I like the way they teach this year because it is easier and I do not have to study for tests. Also, I do not have to go to religion class 3 times a week."
Spotlight: Music Fills SB Halls
By Sean Xiong
Sept 13, 2019
St. Bernard's welcomes a new music teacher Ms. Jo Kuzelka this year. A bunch of students seem to be happy and have interests in learning about their new music teacher. Ms. Jo, the casual name she prefers to be called, used to teach music at Winship Middle School for three years after she just graduated from Humboldt State University (HSU). 
For the past five years, there has not been any music program at Saint Bernard's, not since the previous music teacher Ms. Lyth (the mother of the current art teacher) retired.
Ms. Jo came to support music education here, and she has brought many new instruments and is teaching  students how to play them in her choir and band class. Ms. Jo said she enjoys working at St. Bernard's. "I love the job and I especially enjoy teaching music to kids," she says. 
Of course, Ms. Jo loves music: "I fell in love with music at age of 3." However, the biggest curiosity for most students is the snake in the terrarium in her classroom. "I love snakes, " Ms. Jo said. "I rescued Lemon ten years ago. It's a long story." Lemon is a red-tailed boa constrictor from Central America, but Ms. Jo doesn't know how old her pet is for sure. 
According to her students, the most spectacular thing in her class is Ms. Jo's splendid voice. "Ms. Jo has the voice of angel," said a senior band student. "I am so glad music class has reopened. Ms. Jo is nice and knows a lot about music. I love singing every day."
"Have fun in loving music," Ms. Jo said. "I'm super happy at St. Bernard's, and I hope I will be able to inspire all students to love music as much as I can."
By Amanda Pretzel
29 September 2019
As students begin to settle into the school year at St. Bernard's Academy, new clubs are being created left and right. A few clubs from past years continued into this school year but ,new ones are still being made in order to bring students closer and get everyone involved. 
One of the clubs brought back from last year has been meeting for the past 2 school years. The Book Club, advised by English teacher Ms. Merrill is attended by students of all grades. The club meets on Mondays during the activity period at the end of the day. According to the president of book club, Anna Le, meetings consist of "discussing what happens in the book" after reading an assigned amount of the book decided in a prior meeting. The Book Club is currently reading The Goldfinch which they decided as a group during their first meeting. 
A new club to St. Bernard's this year is Spanish Club. Advised by Spanish teacher Don Miguel, Spanish Club meets on Wednesdays also during the activity period. As previously mentioned, this club did not exist at St. Bernard's in past years, so students are excited to continue learning Spanish and perfecting the language.
Another club brought back from last year is National Honors Society (NHS), which is advised by English and American Film teacher Ms. Jane Smuts. Ms. Smuts states that NHS meets every Wednesday during the activity period and that the meeting time counts for community service hours. This is the first year that students can get their community service hours just from attending meetings and being active in the events put on from the club. A junior at St. Bernard's claims, "It's much easier to get all my volunteer hours now that I can easily get a half hour a week from the meeting."
Improv club is new to St. Bernard's this year. The club meets every Thursday during activity period on the stage. Improv club attendee states, "Mr. Hamilton (drama teacher) explains improv activities and we act them out." This club may teach students how to come out of their shell or even help them decide if they want to be in drama class next year or try out for the annual play. 
Art club is another returning club from the past. Ms. Lyth is advising art club once again and meets every Tuesday during the activity period in Ms. Lyth's classroom. Like the past years, students are able to practice along with use open studio to perfect their skills. Povheng, a student attending art club says that it gives him the opportunity to "learn and be inspired by other people in the club."
If any of the above clubs sound interesting to you, be sure to talk to the teacher in charge.
By: Ema Brenes
September 27, 2019
The Lady Crusaders have come out victorious in most of their games this season. They have played a total of twelve games so far, plus one scrimmage in Redding where the temperature reached a whopping 104 degrees. The team has many new players this year, including Nayeli Hamanaka (Junior), Natalia Torres (Sophomore), Adrianna Granados (Freshman), Hannah Eads (Sophomore), and Josie Peterson (Senior). 
The team is adjusting well after having five of their star seniors graduate last year. Josie Peterson, who took over for Maddie Costa in the role of team goalie, has had an impressive season so far. Peterson also plays on the basketball and volleyball teams. 
Head coach Phil Rousse, the team's head coach, had this to say to potential fans: "Look forward to watching the girls dominate the rest of the season!"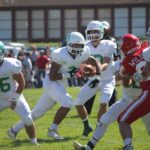 By: Nicholas Dugan
October 2, 2019
Fresh off of a bye week, the St. Bernard's Crusaders football team (5-0) look to stay undefeated as they head into Saturday's battle with the Templeton Eagles (4-1).
Some of the St. Bernard's players feel the bye came at an opportune time. "Personally I think that the bye was good timing due to the injuries we have on and off the field," said sophomore Braeden Zimmerman. 
"Jacob has a hurt ankle," according to junior Colton Smallwood. "Lane has a concussion, Will has a bad ankle, and Harmon has a bad back." Zimmerman adds,"God willing, the team will recover from these injuries and come back stronger than oxen."
Hopefully Zimmerman's words come true as the Eagles pose a threat.  "[They] have a really good quarterback and he is similar to our quarterback Will Omey," according to the defense coordinator, Richard Stevenson. "[We] need to contain the quarterback, limit big plays and cause turnovers on defense, and the offense needs to clean up mistakes and sustain scoring drives."
The key to the Crusaders victory will rely on their strengths. "Our passing game is our strong point" according to senior Justin Hagler.  Hagler is a big piece of the puzzle as he has amassed nearly 25 catches at the mid point of the season.
With any luck the boys will stay undefeated after the big game against the Eagles.