Alumni Spotlight - Cathleen Cahill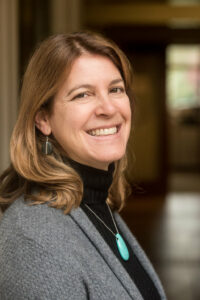 This month's Alumni Spotlight is shining on Dr. Cathleen Cahill, SBHS class of 1991, who was this year's commencement speaker for St. Bernard's 2022 Graduation ceremony. Dr. Cahill is a history professor at Penn State University and a published author.
Cathleen attended St. Bernard's from kindergarten through 12th grade as did her sister Christine (1996) and her brother Kevin (2000). Her father Dennis graduated from St. Bernard's in 1957, the very first high school graduating class, and was very proud to have the distinction of being in SB's pioneer class.
ohn Giannini in 1980, Matt Giannini in 1982, Felicia Carlson Costa in 1989 and Sarah Carlson in 1992. Last, but certainly not least, Mike's older sister Jennifer graduated in 1985 and his older brother Dave graduated 1987.
Mike sums it up, "I feel right at home at SB, and I love continuing the family tradition." "St. Bernard's #one family"